---
---
We've come up with a really easy way to get the Mosquito Ringtones on your iPhone for free…. All you have to do is add our Teen Buzz ringtones podcast feed to iTunes. It so shocking easy, I am surprised that people haven't started podcast ringtone webstes yet. First you need to have iTunes on your computer and click our Teen Buzz / Mosquito Ringtones podcast feed in order to get the ring tones into iTunes.
After clicking the link, a feed will appear in your podcast folder in iTunes.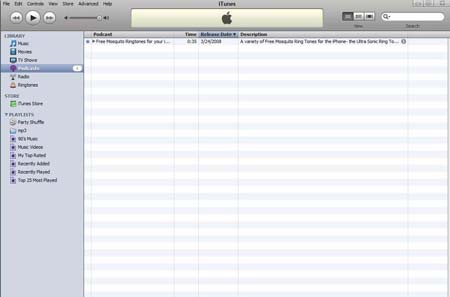 Click on the arrow next to the Podcast to display all of the ringtones.


Click the frequency of the ultra sonic ring tone that you want to put on your iPhone, or select them all!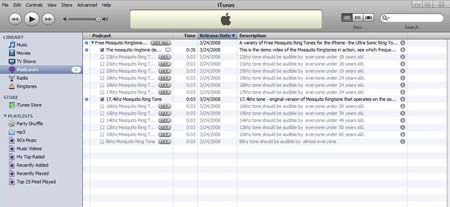 And finally, your ringtones should appear in your ringtones folder. If a ringtones folder does not appear, connect your iPhone to your computer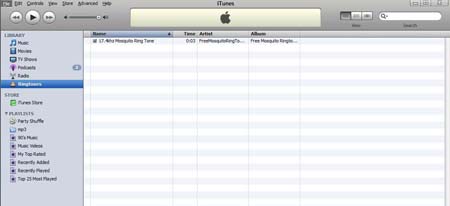 Your ringtones will be available on your iPhone the next time you sync it with iTunes.
---
25 Comments
so-cooooooooooooooooooool !
April 6th, 2008 at 12:14 pm

Dima K
April 8th, 2008 at 3:46 pm

bobby
May 6th, 2008 at 9:20 pm

faheem
May 22nd, 2008 at 12:35 pm

long
May 29th, 2008 at 4:29 am

drogy
June 22nd, 2008 at 6:45 am

Dillon
October 2nd, 2008 at 9:50 pm

Legend
October 5th, 2008 at 5:06 pm

lotto
October 24th, 2008 at 3:53 am

dominic
October 25th, 2008 at 7:58 pm

jaii power
November 21st, 2008 at 4:38 pm

LOL
December 6th, 2008 at 7:01 am

Shannis
December 8th, 2008 at 11:17 pm

luis
January 14th, 2009 at 10:19 pm

Randall
January 17th, 2009 at 2:40 am

Diana
April 25th, 2009 at 6:26 pm

Rick
June 28th, 2009 at 11:52 pm

bman
July 27th, 2009 at 3:13 am

iPhone Help
October 1st, 2009 at 12:12 am

Cristina
October 9th, 2009 at 3:54 pm

rudabeast
December 3rd, 2009 at 6:49 pm

me!!
May 4th, 2010 at 5:10 pm

samson
May 25th, 2010 at 2:41 pm

lotio
March 6th, 2012 at 10:53 am

Trackbacks
Leave a Comment